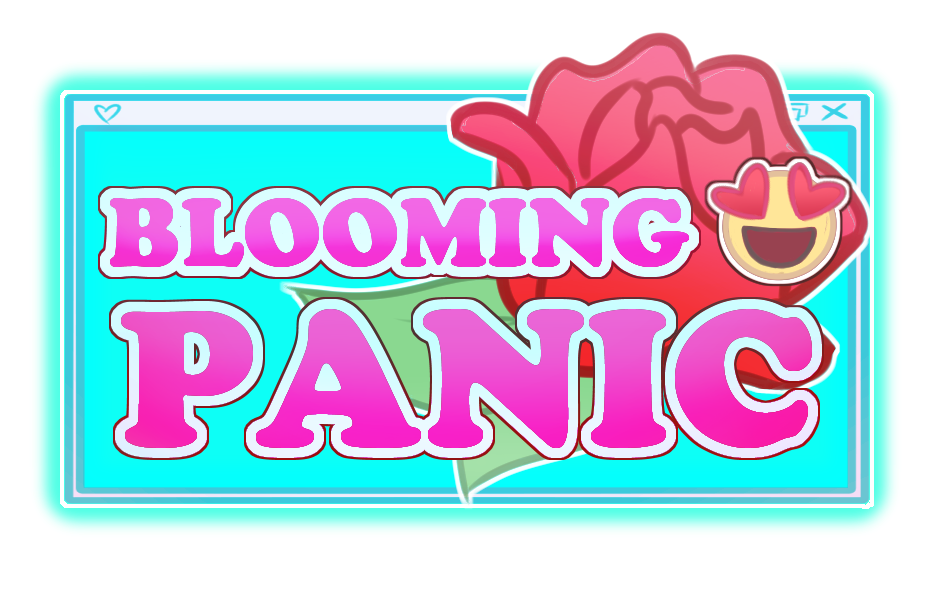 Blooming Panic
A downloadable game for Windows and macOS
Depressed day-in and day-out from a draining corporate job, you become invested in a fantasy webnovel and find a mysterious link to a fan server. Everyone is warm and welcoming, but four members take a special interest in you!

WELCOME TO BLOOMING PANIC: FULL BLOOM EDITION!
We are so excited to finally share the re-vamped version of our game jam entry, Blooming Panic. Here's some of what you can find in this new version of the game:

1. Pronoun options,
2. Updated art for every character,

3. ~6k additional words of content for nightowl,
4. ~4k additional words of content for NakedToaster,
5. Five new tracks in the OST
and....................
6. The xyx route.

A devlog will be posted shortly after launch with more detail on the changes, as well as complete new walkthroughs for every single route.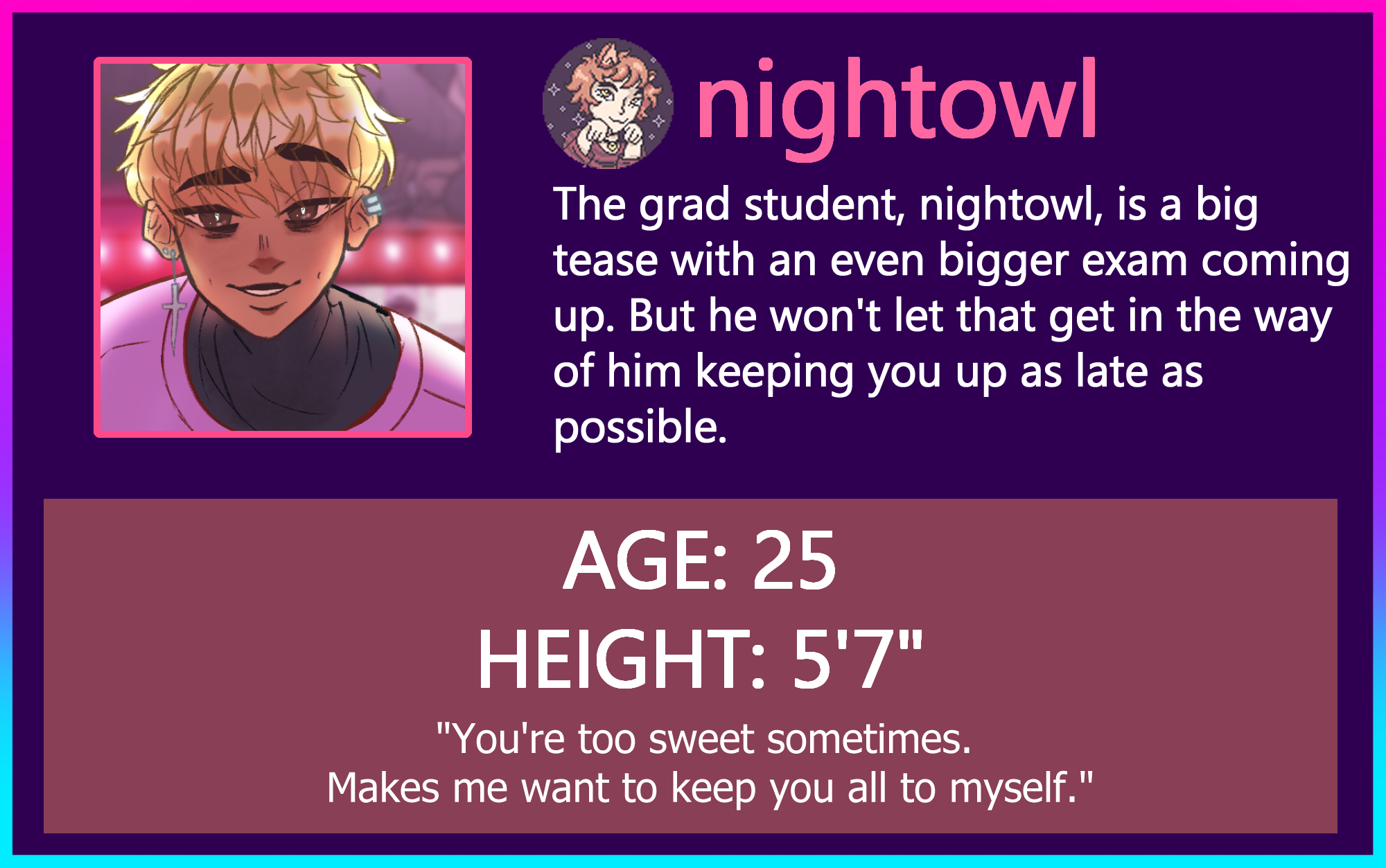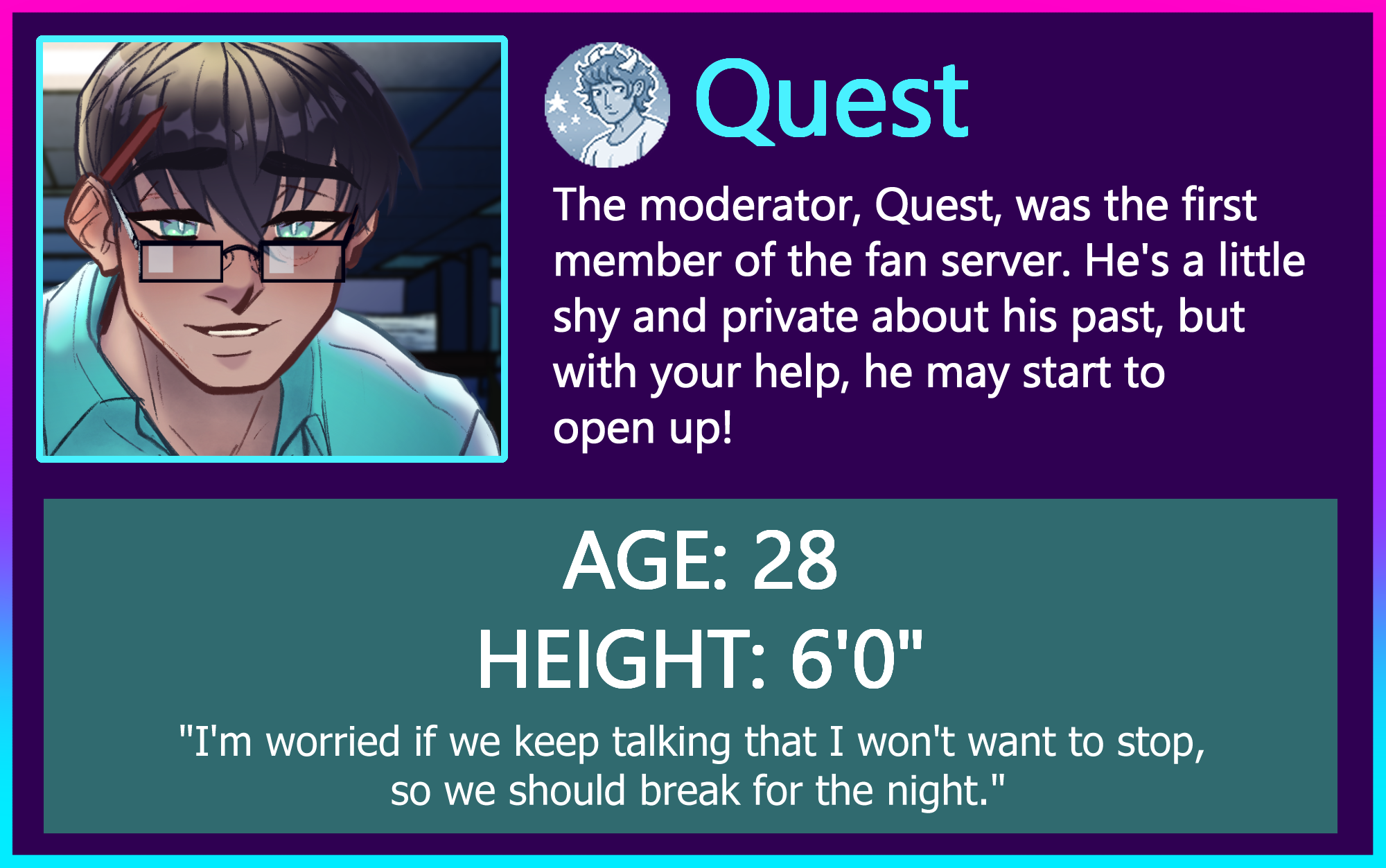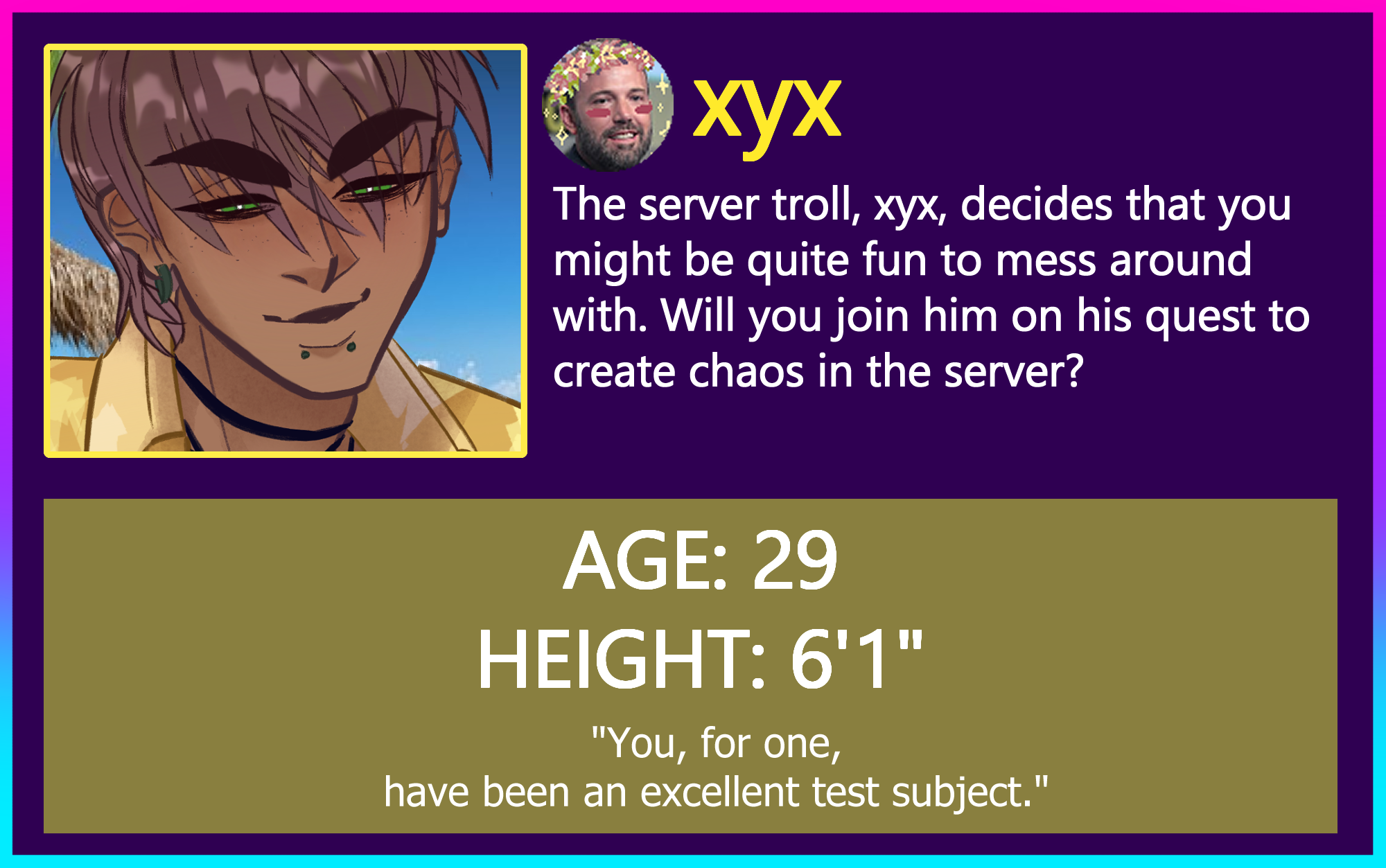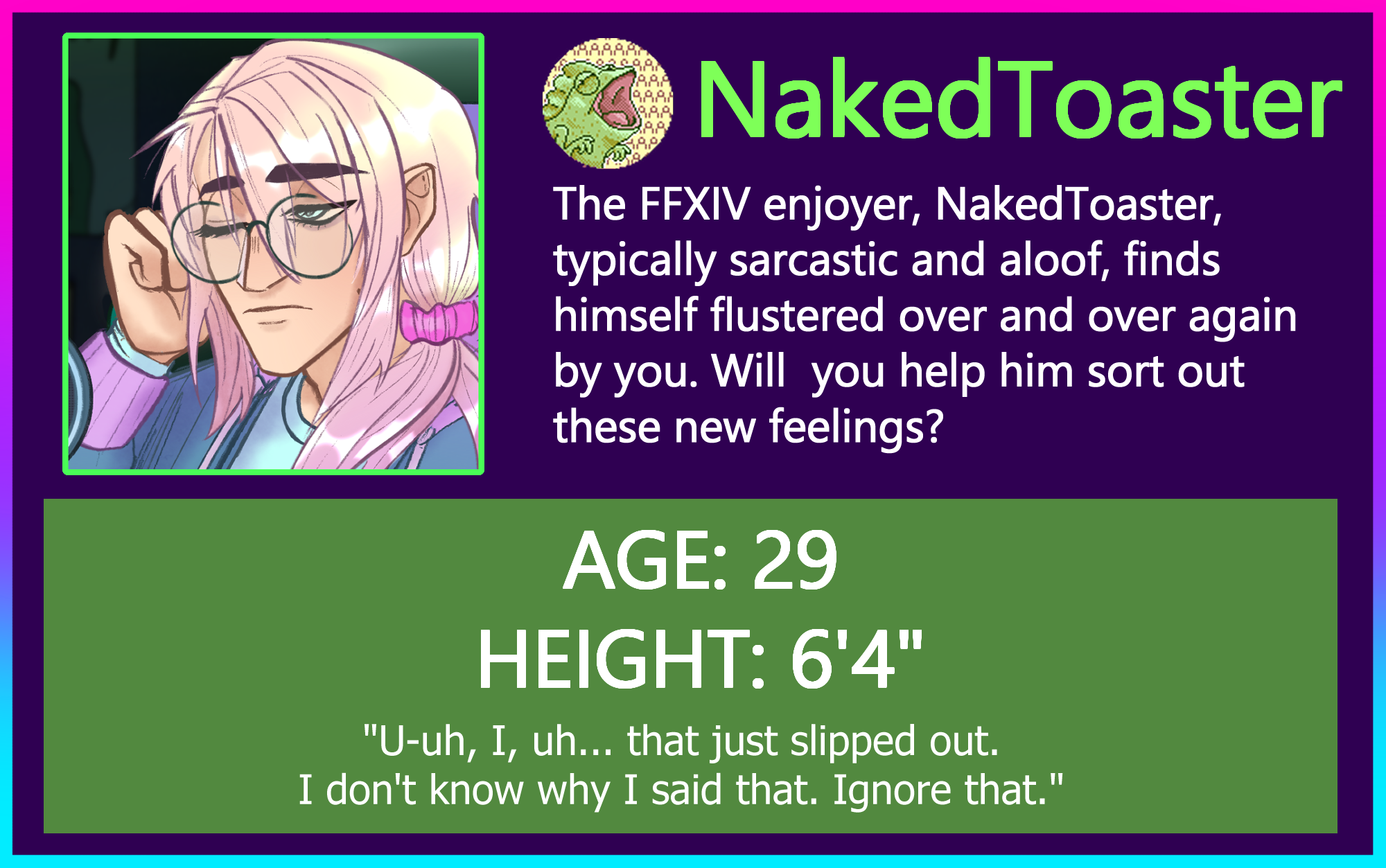 WALKTHROUGH NOTES FOR PLAYERS
NakedToaster is the intended true and final route of the game. If you would like to play NakedToaster without having to go through nightowl and Quest (not recommended), you can access his route through using the username "LovelyLola". (Xyx's route is not required to access NakedToaster's route.)
In order to arrive at his route, you'll need to select "..." when the server greets you and call his selfie "cute".

~75k words (~5-8 hours of playtime)
8 CGs
15 in-game fanarts
8 endings
8 epilogues
As well as...
A music channel!

PII restrictions!


Server arguments!


And plenty of video calls!


Director
Programmer
Editor
Writers
robobarbie (NakedToaster/nightowl), Destini (Quest + xyx), Allie Vera (webnovel + xyx)
Sprite/Background/UI Art
Emoji/Icon Art
Meme Creator
FakeImpostor
OST + Voice Editing
Main Voice Talent
Charlatean (NakedToaster), Kija (nightowl), BardCommander (Quest), Katy133 (BloomBot), Mike Young (xyx)
Additional Voice Talent
Selendri (BIGLADY), Selendri's cat Persephone, Orpheo Fenn (two2), Ara Christian Letim (onionthief), Cocolamoco (June), Sawyer Lash (salociN), Homoagogo (societyboy)

Fanartists
Rae Byrd, Cocolamoco, Grimmy, Rinna, Ava, Baehino, Allie Vera, Bakatino, Destini, Katy133, robobarbie, Seylgark, Sleepy
QA Lead
QA Team
DoubleDaze, Flint Whitelock, perpetuallyNewGuy, redstormpopcorn, Selendri, Ara Christian Letim, Zero, BocajTheInfinite, Basil, Moth, Willy Elektrix
Made initially for the 2021 Otome Jam. Original press kit here.
Warnings - game contains:
Cursing
Mildly suggestive content
Situations involving stalking
Discussions of parental verbal abuse
LOUD SUDDEN SOUNDS


BUG FIXES:
2021-12-22: Fixed a bug where societyboy used the wrong pronouns on day 4 of the Quest route. Players will need to restart any runs after downloading again to apply the fix. Use CTRL and the red skip button to race to where you were if a run is already in progress (should take ~5-10 min).